Prices mentioned are in PKR.
Price updated from official dealers and external sources.
Pricelist are for all over Pakistan.
The price & specs shown may be different from actual. Please confirm on the retailer site before purchasing.
Add to wishlist
Added to wishlist
Removed from wishlist
1
Add to compare
OPPO A53 2020 PRICE IN PAKISTAN
OPPO A53 2020 price in Pakistan starts from ₨26,099.00 . The lowest price of OPPO A53 2020 is ₨26,099.00 at homeshopping.pk. This is 4 GB o RAM and 64 GB internal storage bwhich is available in Electric Black, Fancy Blue, Fairy White colour.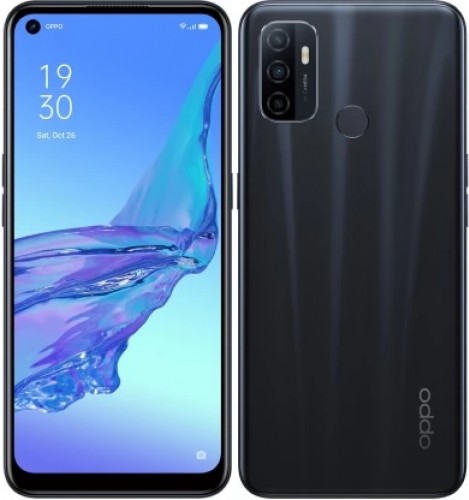 homeshopping.pk
In stock
ishopping.pk
In stock
daraz.pk
In stock
Last price update: 2021-02-15 21:10:43
Leak: OPPO A53 2020 will come in 6 G B +128 GB variant for India priced around ₹15,previously Oppo launched Oppo A53 which come with Processor make of Qualcomm Snapdragon 616 . 2 GB of RAM and Internal storage of 16 GB.
Oppo A53 2020 launching date: 20th August 2020.
Oppo A53 2020 detail Summary
The company designed smartphone display with a 6.50-inch touchscreen display and screen resolution of 1600×720 pixels
The aspect ratio of display is 20:9.The Oppo equipped the processing unit of smartphone with processor of octa-core Qualcomm Snapdragon. The operating system of smartphone is Android 10 with 4 GB of RAM. The battery capacity of smartphone is 5000mAh with proprietary fast charging.
Rear and front Camera
The rear camera of smartphone come in the following configuration.1st primary camera of smartphone is 13-megapixel.
2nd Camera is 2-megapixel and final last the third one is 2-megapixel camera.The company also designed its rear camera with autofocus functionality. The front camera of smartphone come with 16-megapixel aperture with an f/2.0.
Storage and SIM Technology 
The internal storage is 64 GB which user can expand with micro SD card the limit of expansion is 256GB. It is double SIM smartphone work with both Nano-SIM and Nano-SIM cards. Coloar are Electric Black and Fancy Blue.
COMPETITORS FOR Oppo A53 2020
Oppo A53 2020 Alternatives
Disclaimer The above information was obtained from open sources, including from official sites and catalogs. Since we cannot guarantee 100% accuracy and completeness of product descriptions, ALWAYS check with the seller the parameters that are important to you and inspect the product upon receipt. After payment, it will be problematic to return or exchange an unsuitable product.
Basic Price Information:
All costs talked about above are in Pak Rupees.
The most recent value of Oppo A53 2020 in Pakistan was up to date from the listing offered by Samsung official sellers and guarantee providers.
The value acknowledged above are for throughout Pakistan.[wcpcsup id="21974″]
Specification:
Oppo A53 2020
| | |
| --- | --- |
| Brand | |
| Expandable storage | |
| Processor | Octa Core |
| Aspect ratio | |
| Resolution | |
| Model | |
| Screen size (inches) | |
| GSM/CDMA | |
| Fast charging | |
| Battery capacity (mAh) | 5000 |
| Number of SIMs | 2 |
| Launched in Pakistan | |
| Release Date | |
| Expandable storage type | |
| Internal Storage | 64 GB |
| Colours | |
| RAM | 4 GB |
| Expandable storage up to (GB) | |
| Processor make | |
| Form factor | |
| USB Type-C | |
| Touchscreen | |
| 4G/ LTE | |
| GPS | |
| Skin | |
| Operating system | |
| Rear flash | |
| Rear autofocus | |
| Front Camera | |
| Rear Camera | |
| 3G | |
| Wi-Fi | |
| SIM TYPE | Nano-SIM |
| Face unlock | |
| Fingerprint sensor | |
| Headphones | |
| Compass/ Magnetometer | |
| Proximity sensor | |
| Bluetooth | |
| Accelerometer | |
| Ambient light sensor | |